The Crew
Stéphane Poughon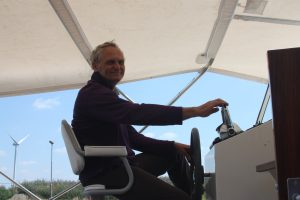 Having a passion for the sea and boats, Stéphane tirelessly ensures the passengers safety and comfort so they may discover at their ease the voyages ahead, sharing his enthusiasm.
Stéphane has acquired a distinguished maritime reputation proven by his experience and diplomas:
Certificate captain 200 IMO
Diploma nautical institut of Britanny.
BA nautical biology
MBA – HEC
Winner of the mini transat single handle 1983
Winner of the race around the World, Whitbread 1985
Semi finalist American Cup French Kiss 1986

9 month Atlantic Tour family cruise 20
Sophie Poughon
Sophie likes adventure and travelling with all the rich human encounters they offer.
On the Troll, she is the second in command, head on the deck, responsible for the ropes, helps the captain in the navigation, the manoeuvres and the docking.
Sophie likes everyone to be happy, she is the chef in the ship kitchen and rejoices in preparing her specialities, appreciated by all who try them.
An artist at heart, frame-maker as her previous profession, she has taken many culinary courses with some of the most prestigious chefs.
Cet article est également disponible en : French